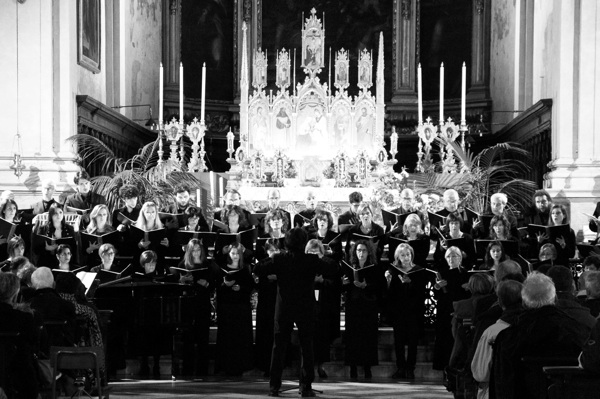 We're looking for new voices!
L'Accademia degli Unisoni is looking for new voices, especially male.
The Choir is an autonomous group of amateurs, and currently has around 35 members. In view of the musical projects being undertaken, the reinforcement of the Tenor and Bass sections is essential (also for individual projects).
Repertoire: A capella choral music with instrumental/orchestral accompaniment, primarily of the Baroque period. Recent performances : Mass in B minor by J. S. Bach, Dido and Aeneas by H. Purcell, Spatzenmesse by W. A. Mozart, Requiem by G. Fauré.
Activities: Concerts, participation in exhibitions and festivals, cultural events, and collaboration with Italian and foreign choirs and/or orchestras.
Commitment required: Two weekly evening rehearsals are required. The choir is in fact the only musical activity which does not necessarily involve individual study/practice, or any particular talent or training.
Motivation: Performing music in a choir is an opportunity for personal fulfillment and shared emotions. It is an anti-conformist challenge to cultural standardisation, and aids in overcoming stereotypes and prejudices.
Get to know us: Rehearsals are open and are held at the Sala S. Anna, in viale Roma n.15, Perugia, Tuesdays and Fridays, from 9 – 11 p.m.
Contact us: info@accademiadegliunisoni.eu | cell. 3495367337 (President) | cell. 3286111127 (Artistic Director)
Come and discover our musical world, and live an unforgettable choral experience. We look forward to meeting you!